About Us
We're Khamelia.com and we believe software should be useful, intuitive, and fast - so you can work better, get more accomplished and make smarter decisions for your company.
We're in the process of upgrading our software product line to transition it to the cloud.
The technology world is radically changing yet again, and the individuals and companies who position themselves for this massive shift, can profit quite nicely. "In many areas, SaaS (cloud) has become the preferred delivery model," said Mr. Nag, senior researcher at Gartner. "Now SaaS users are increasingly demanding more purpose-built offerings engineered to deliver specific business outcomes." This is what the experts are saying... and that's where Khamelia will be. You see, we're positioning ourselves for this new opportunity, the cloud, and we're asking you to come with us.
Do you know that small and mid-sized businesses will spend approximately $1.0 trillion on software and/or software-related services this year alone? That's right - businesses need software and they're willing to spend the necessary money to get the required software in order to help run their companies.
Let's back up a bit. In the 1960's software was written to operate within large centralized mainframe computing environments. These mainframe systems were very complex. Companies like IBM created specialized software for their big corporate clients to use within their local mainframe-based computing facilities.
When Apple and Microsoft came into the market in the 1980's, they helped transition software formats from the large centralized mainframes to a more distributed computing "server/desktop" environment, that can be used on small office and home computers. This in return, has allowed companies like Microsoft and other distributed software companies to make hundreds of billions in revenue over the last 3-4 decades.
And now… With the arrival of software-as-a-service (SaaS) environments, also called cloud services, companies are uniquely positioned to upgrade and transition many of their local (on-premise) server/desktop-based operations to the cloud, drastically reducing their IT (information technology) costs. This transition has launched a new industry, the cloud industry, with huge financial opportunities in the technology world.
In fact, financial and industry leaders are calling this the "Next Big Thing" within the IT industry where hundreds of billions of dollars will be spent on software for the cloud environment over the next five years alone.
Gartner inc, the world's leading it research and advisory company, has been tracking this new market demand since its beginning, where they have reported approximately $48.2 billion in revenue in 2016 and $71.2 billion in 2018 for software companies that are offering their software services from the cloud.
According to the Gartner Group, the worldwide SaaS cloud services is projected to grow over a 160% from 2016 to 2021, a growth of $117.1 billion in 5 years. And this is only the beginning. Gartner is predicting exponential growth for the next 20 years.
"Cloud computing is the new norm; the cloud is here to stay"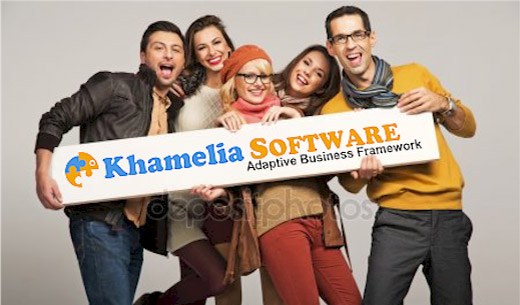 We searched for a way to easily manage our consulting projects. We wanted a service that innovated with technology. We couldn't find one, so we decided to create our own bussiness system that could help us run our business - and Khamelia.com was born.
Then Khamelia.com was embraced by other businesses as an advanced on-premise solution that was a useful, simple and a better way to work smarter, get more accomplished and make more informed decisions about their business. Today, Khamelia.com serves the project management needs of customers around the world, from freelancers to small businesses to departments within Fortune 500 companies.
Headquartered in Folsom, California, we're independent and profitable, with our customers as our only investors. Each day we come together to listen to our users, solve problems and continue to improve our services.
We Build Experiences
Khamelia is a powerful framework system that allows for the rapid development of integrated software tools on top of it. Imagine having a single SaaS website that offers:
Project Management
Task Management
Timesheet Management
Document Management
Time Tracking
Invoice Management
All of which is made possible simply because it operates off of a proprietary framework – which has taken years to develop and perfect by our offshore development center. All of the code that makes the functionality possible sits (one-time) at the framework level and is not scattered throughout the system at the software tool level. This not only simplifies the code for each individual tool, but it also keeps this highly integrated system lean and fast.
This may sound simple enough, but it's also something which our competitors have not been able to do – nor will they be able to do it. Once they start stacking software tools on top of each other like this, then their system becomes slow, unresponsive, and completely unusable. They quickly realize that you can't have a highly integrated system without our Khamelia framework.
Remember, it's the framework - this is our "secret sauce" and it's what makes Khamelia unique, highly robust and "possible" in the first place. Once again, it took a team of developers years to fully develop this proprietary framework into what it is today. You simply can't have this level of "software integration" without the Khamelia framework.
About Khamelia.com:
Launched in 2012 as a local on-premise business solution.
Khamelia works on our adaptive business framework.
Developed with Microsoft C# multi-paradigm programming language.
Highly recommended by our current on-premise customers.