Adaptive Project Management... The Better Way to Do all Your Projects
Khamelia LITE is the only online management tool that allows you to manage all your projects your way - that's why we call it "adaptive project management." Most project management software on the market wants you to manage projects their way - except for Khamelia, that's it.
Work Together More Efficiently with Khamelia's Adaptive Business Intelligence
Collaborate directly in the context of any project, task or timesheet for real-time communication. In addition, share documents, comments and feedback in one central place, mentioning all relevant team users with automatic
notifications on every update. Khamelia makes all of this possible and more...

Adaptive Business Functionality... without all the complexity
The only tool you'll ever need to take your business to new levels of productivity and efficiency with a wide range of easy to use business applications
One solution to prioritize your tasks, manage your time and meet your deadlines
Project Management
Streamline project, resource and portfolio management with Khamelia to help you keep track of projects and stay organized.
Task Management
Organize everything you need to keep track of all your tasks and get them done faster and better with Khamelia.
Timesheet Management
With Khamelia, users can quickly and easily capture detailed timesheets, whether in the office or on the road.
Document Management
Make distance immaterial by easily sharing and collaborating on files with Khamelia's secure business workplace.
Time Tracking
Khamelia makes time tracking fast & easy.
Invoice Management
Khamelia invoice simplifies invoicing and billing for freelancers and small business owners everywhere.
Why pay for dozens of expensive business software packages, when you can have ONE low-priced solution that does more - lot's more.
A revolutionary all-in-one suite to run your entire business. An unprecedented six integrated applications on one account, with complete administrative control - for a price that will change the way you think about buying software.
An Award-Winning Easy to Use User Interface
Interface designers may be obsessed with how pretty their creations look, but it's how users feel at the end of a task that really determines how usable a device is, according to human-computer interaction (HCI) guru Donald Norman. At Khamelia Software, we understand the importance of a "user-friendly" design that is modular and scalable from a coding and functionality perspective.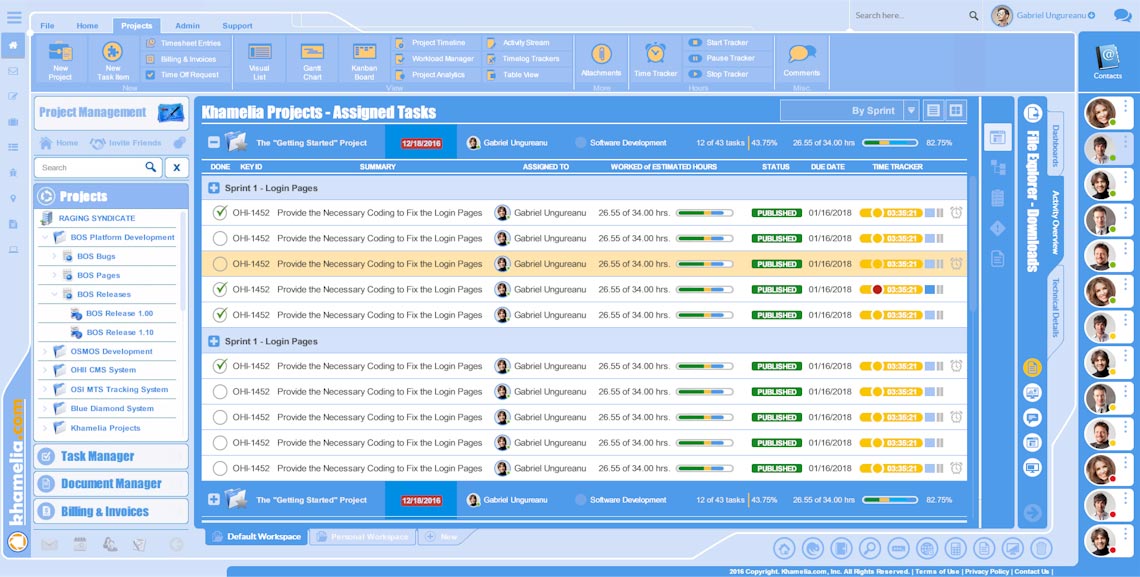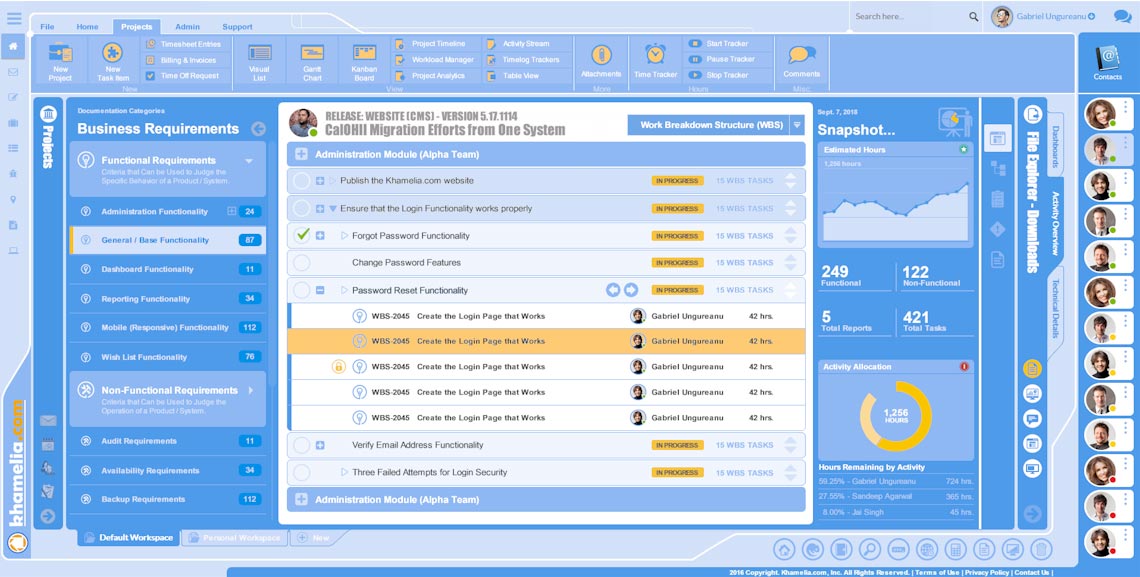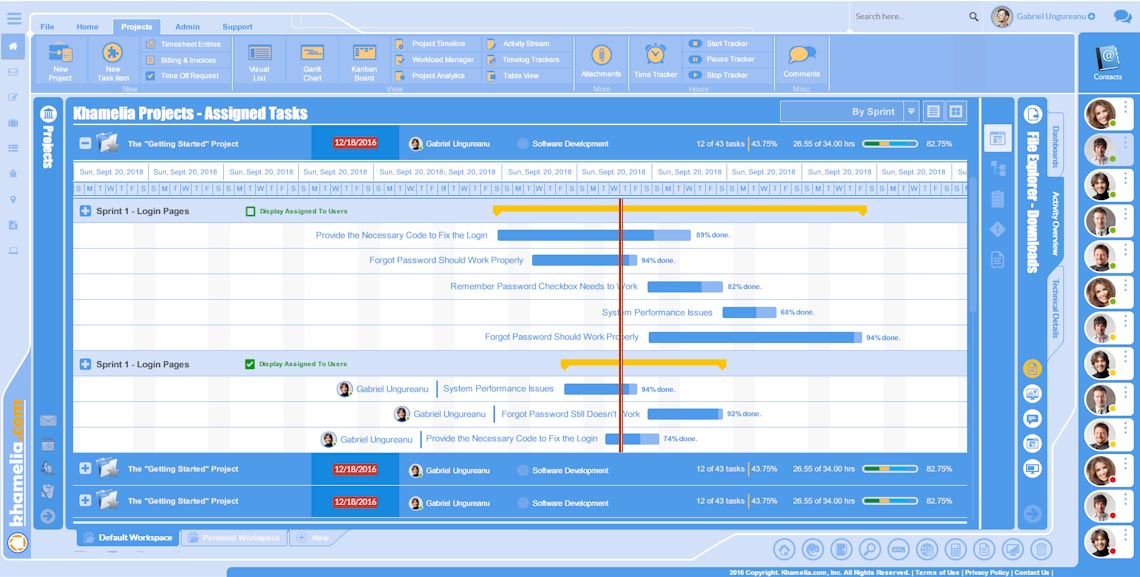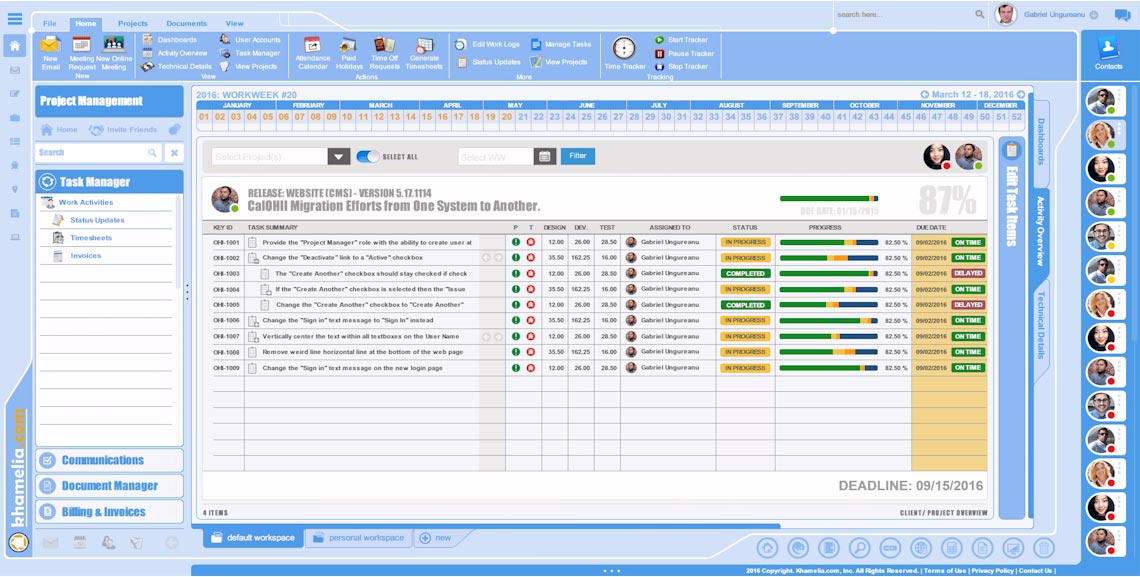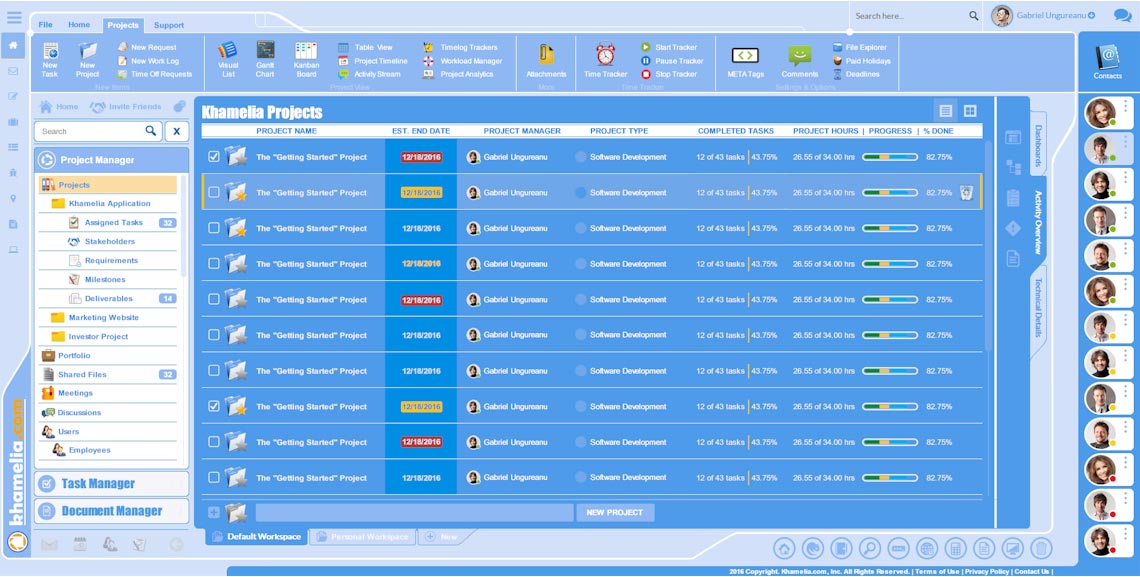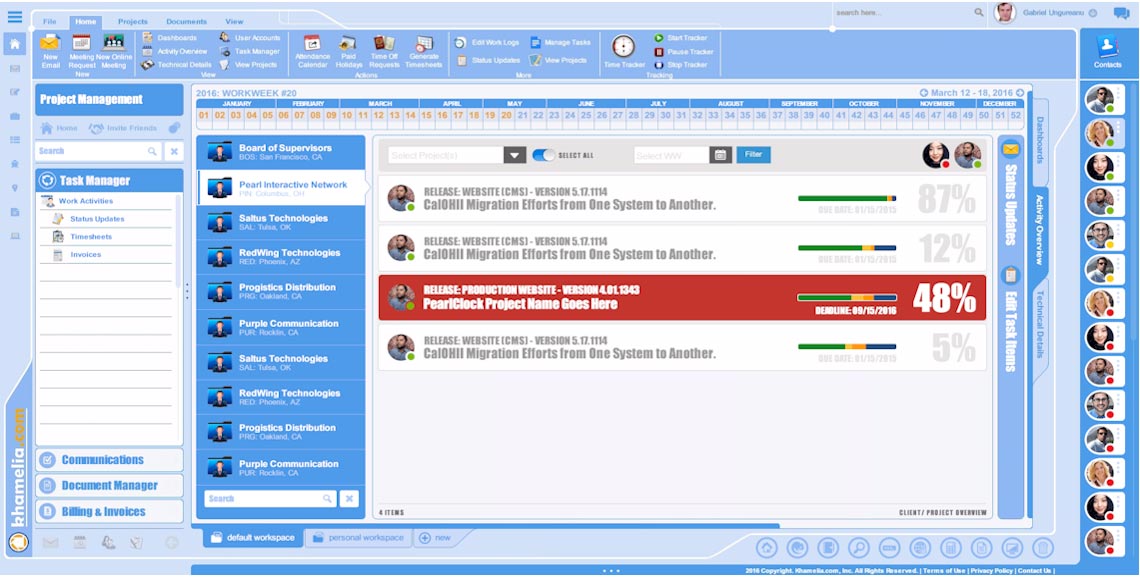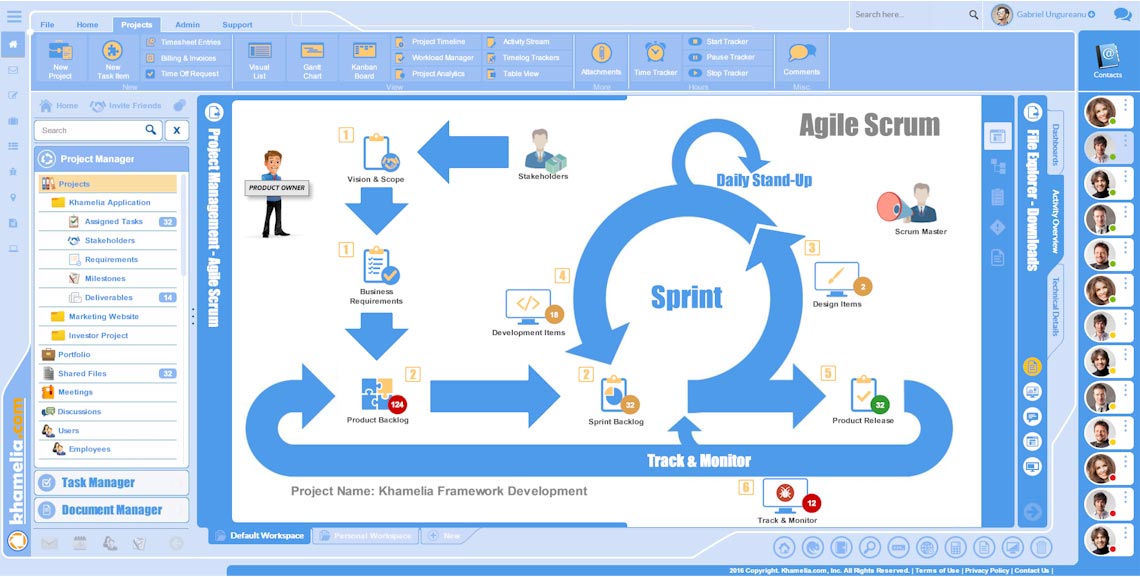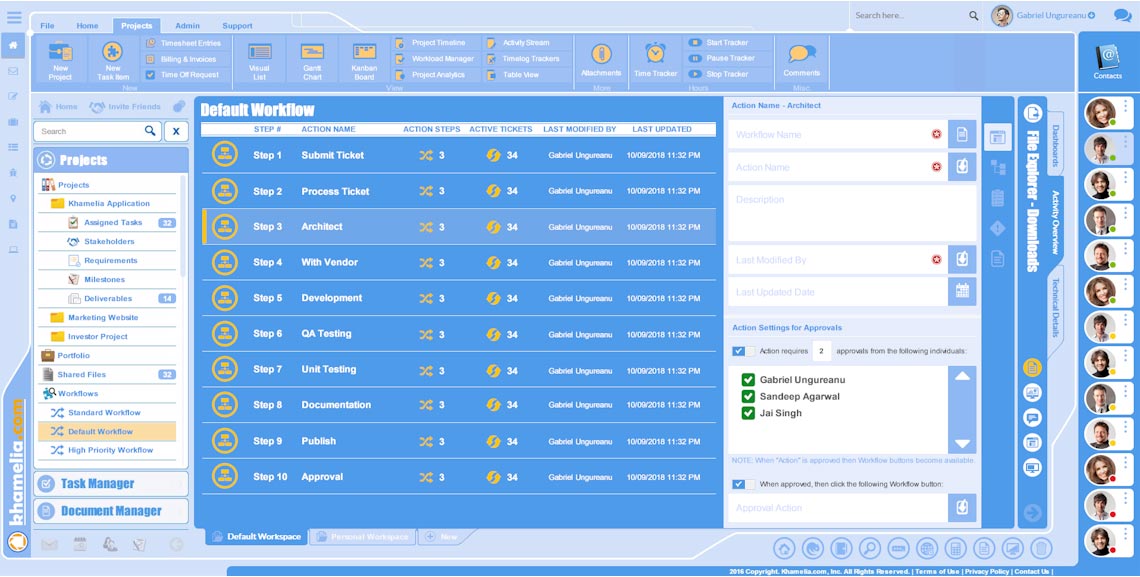 A product that's difficult to figure out, inefficient to use, or poorly supported is not going to win much of a user base. That's why we've put in a substantial amount of our time and effort in determining what that optimal user-interface design should not only look like, but also how it should function. We understand that in order for our system to be user-friendly, it must also function really well – in other words, it's the entire system. Everything must look good and work correctly in order for our customers to have the best experience possible.
A Powerful Work Framework for the Way You Work Today
Comprehensive web-based project management software to efficiently organize, track, and collaborate your project management efforts.

Project Management Made Easy
One project management tool for all your teams in one central place.

Increased Productivity & Efficiency
Instantly increase your teams productivity and efficiency to save money.

Customizable & Scalable
Highly flexible & customizable software to support your processes and business models.

Easily Manage & Track Results
Discover the right tool that provides full project visibility.

Seamless Integration & API Support
Enhance productivity with our package of fully integrated applications.

Powerful dashboard & Reports
All the insights, metrics & answers in our dashboards and reports.

Manage Complex Projects
Manage every aspect of complex projects and visualize all your tasks.

Real-Time Data for Your Dashboards
Get critical data in real time with easy-to-configure, widget-based views.

Ideal for Waterfall & Agile Projects
Product launches, sprint planning, regression testing, events and more...
Khamelia Software - One Solution for your Entire Business...
Carry Khamelia in Your Pocket with Khamelia 3.0!
Project management doesn't have to stop when you're on the road. Collaborate while on the go with your smartphone or tablet. Enjoy Khamelia on your iPhone / iPad, Windows or Android device.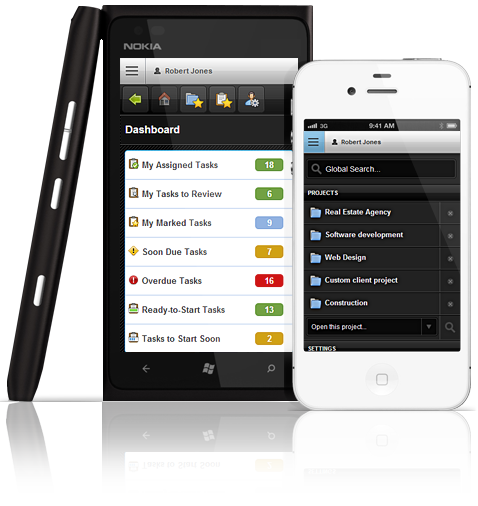 Essential Business Tools for Effective Project Management
Take collaboration to new heights with a wide range of easy to use powerful tools. And while we're limiting version 3.0 to six integrated applications – our Khamelia framework will handle even more integrated applications in future releases. The possibilities are endless.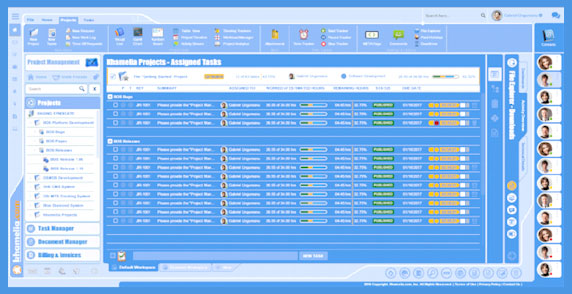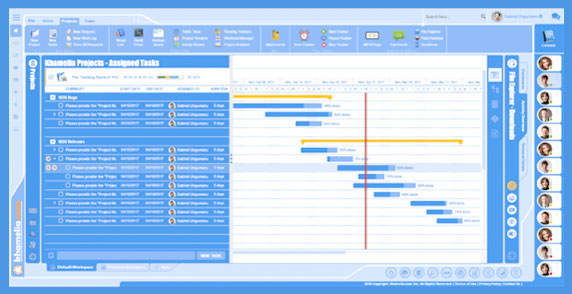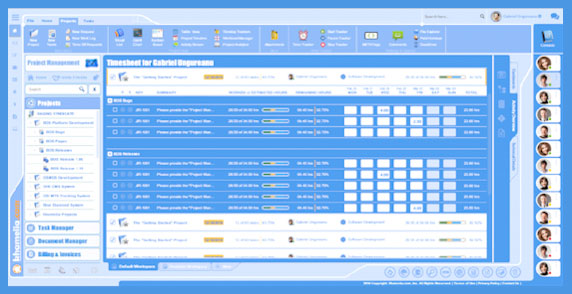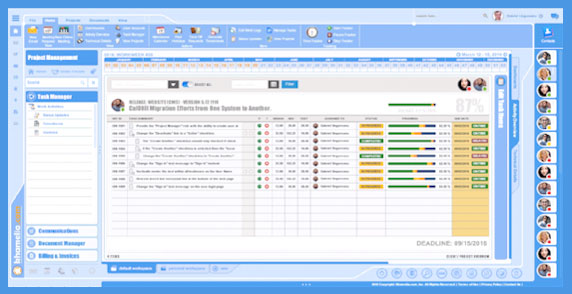 Sign Up for Khamelia Today
We believe that Khamelia makes the world a better place. So, sign up and save time, save money and get back to what matters most.