Adaptive Time Tracking~/KhameliaFrontend/. The Better Way to Track Time & Expenses
Start and stop timers as you work through your to-do list, or enter all your hours into a timesheet in one go. Khamelia lets you track time in whatever way is easiest for you.
Spend Less Time Tracking Your Work and More Time Achieving Your Goals
Faster time tracking means easy timesheets, an intuitive mobile app and tools, integrations and reminders that both employees and managers love to use. Khamelia makes time tracking easy.
Track Time & Expenses
Time tracking can unlock key information about your business, but remembering to do it can be a challenge.
Khamelia makes it easy to track time and expenses, so you get access to critical data without driving yourself (or your team) crazy.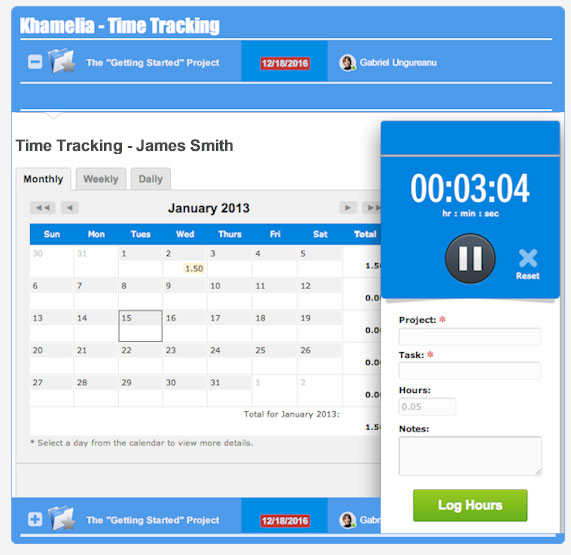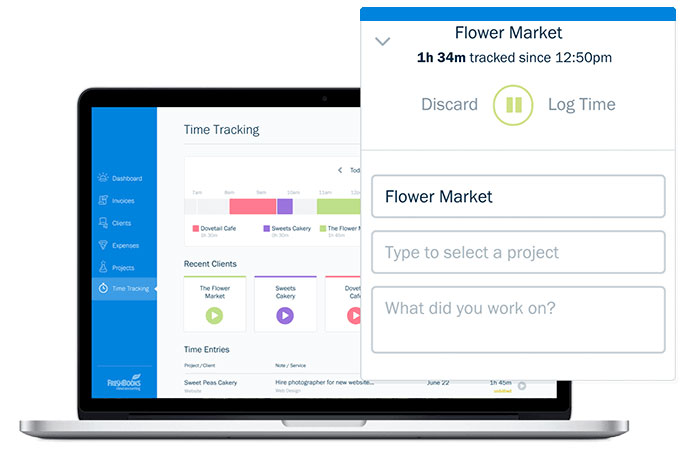 We Make It Easy to Record Employee Hours
Yes, Khamelia has a mobile app for iPhone and Android, and online timesheets that make entering time as easy as possible. But there's more. Our Quick Day and Quick Week features make it easy to copy repeat tasks or time worked.
Even better, our timesheets can be set up so that only the right projects or tasks are visible for your team. This means that time is not only entered faster, but it helps to ensure accurate entries.
Khamelia Works Wherever You Are
Use the Windows or Mac app to start a timer from your desktop, or the Chrome extension to track time from your browser. And if you're running to a meeting at a client's office, our mobile apps have you covered.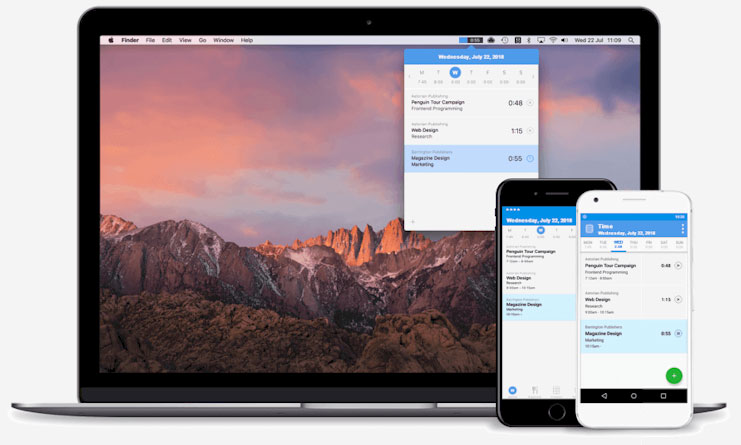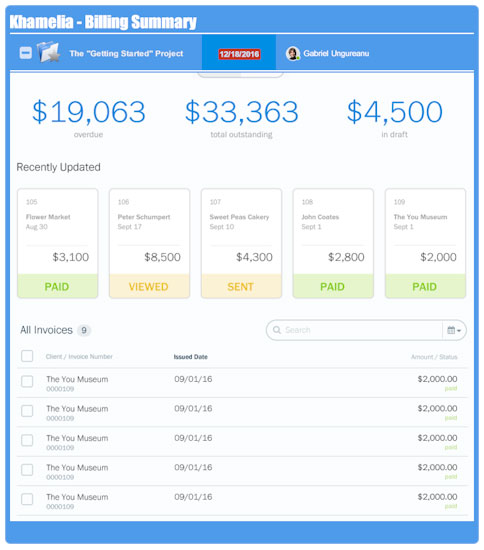 Transparent Billing Communication with Clients
Track time and delegate tasks for all your businesses from a single dashboard. Analyze time tracking reports and improve productivity. Time devoted to each task, client or projects can be analyzed, then generate tracked time to invoices.
Khamelia Works for all Teams in all Industries
Khamelia.com is dedicated to continually improve and enhance functionality and user experience within all Industries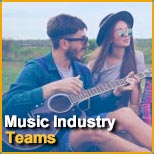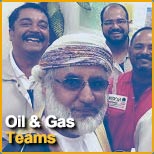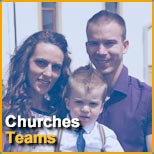 Get the Best Project Management Software for Your Teams
The Ultimate List of Online Time Tracking Tools
Take time tracking and collaboration to new heights with a wide range of easy to use and powerful features
Khamelia.com has everything your teams need. See all our features in this list
Billable Time Tracking
Khamelia's simplifies time tracking, billing, invoicing and timesheet management with one easy to use online software.
Attendance Tracker
All-in-one attendance tracking software. Quickly track the attendance of your class, group or any gathering of people.
Online Time Tracking
Track employee hours & jobs easily with Khamelia's online time tracking software! Fast &easy setup.
Time Management
Khamelia's time management features and functionality allows users to prioritize tasks and manage their time more efficiently.
Team Time Tracking
If you're looking for the best time tracking software for small or large teams, then look no futher. Khamelia has everything that you need.
Automatic Time Tracking
Not only does Khamelia do time tracking, but it also accurately records and reports employee billable and non-billable hours.
Project Time Tracking
Employees and managers love the simplicity of Khamelia's ability to quickly review, approve or reject employee timesheets.
Time Recording App
Khamelia provides users with advanced timer functionality so that all users can easily track their billable work hours.
Work Hours Tracker
Reduce your payroll costs with easy-to-use, integrated time clock and time tracking functionality that's fully trusted by all Khamelia users everywhere.
Attendance Management
Manage your employees attendance with Khamelia. Create flexible attendance policies and manage employee attendance efficiently.
Billable Hours
Track up to the minute project time, capture all billable hours and efficiently manage your resources, projects and client billing.
Automatic Payroll
With Khamelia, users can quickly and easily capture detailed timesheets, whether in the office or on the road via our Mobile app.
Employee Monitoring
Track what your employees are doing while they're on the job with Khamelia's employee monitoring features & functionality.
Mobile Time Tracking
Mobile workers can better track time, labor and productivity, more accurately with Khamelia's mobile time tracking features.
Internet Monitoring
Track your employee productivity by professionally monitoring their internet usage to ensure that it's used for business purposes only.
Work Activity Reports
Simple yet powerful employee work time tracker with screenshots, timesheets and work activity reports.
Time Reports
Track time, import hours to payroll and manage hourly employees with confidence - the system is completely flexible to all your timesheet needs.
GPS & Location Monitoring
From the office, you can use Khamelia to see and track the location of each field technician that's out and about.
Khamelia Software - One SaaS Solution for your Entire Business...
A revolutionary all-in-one suite to run your entire business. An unprecedented seven integrated applications on one account, with complete administrative control - for a price that will change the way you think about buying software.
A Powerful Work Framework for the Way You Work Today
Comprehensive web-based project management software
to efficiently organize, track, and collaborate your project management efforts.

Project Management Made Easy
One project management tool for all your teams in one central place.

Increased Productivity & Efficiency
Instantly increase your teams productivity and efficiency to save money.

Customizable & Scalable
Highly flexible & customizable software available online 24/7.

Easily Manage & Track Results
Discover the right online tool that provides full project visibility.

Seamless Integration & API Support
Enhance productivity with our package of fully integrated online applications.

Powerful dashboard & Reports
All the insights, metrics & answers in our dashboards and reports.

Manage Complex Projects
Manage every aspect of complex projects and visualize all your tasks.

Real-Time Data for Your Dashboards
Get critical data in real time with easy-to-configure, widget-based views.

Ideal for Waterfall & Agile Projects
Product launches, sprint planning, regression testing, events and more~/KhameliaFrontend.
Why pay for dozens of expensive business software packages, when you can have ONE low-priced online solution that does more - lot's more.
Dedicated to Offering Exceptional Customer Support
Our customer support staff provides a high level of responsive support. Contact us through email, chat online, or by phone. It's always a pleasure to interact with our users and hear what you have to say, explain a new feature, and better understand your usage of Khamelia.com.